Advance Moisture Protection has been repairing and replacing roofs for homes, businesses, and churches for over 42 years. As a faith-based company, we truly love building and repairing the roofs on Churches throughout our community. We have the skills, experience, and equipment to repair and replace all types of church roofing including slate, shingles, metal, coatings, flat and of course very steep pitches. Our complete services include fascia, soffit work, siding, windows, gutters, and downspouts. We are your complete roofing contractor for churches of all sizes and architecture designs. Every Roofing project that we complete is done with exceptional craftsmanship, high-quality roofing materials, and exceptional customer service. We've repaired or replaced over 500 Church Roofs throughout Maryland, Virginia, Delaware, and Pennsylvania. Here are some samples of the work we have done:
We feature a Church project every week. Visit us again to see other Church projects Advance Moisture Protection Inc. has completed!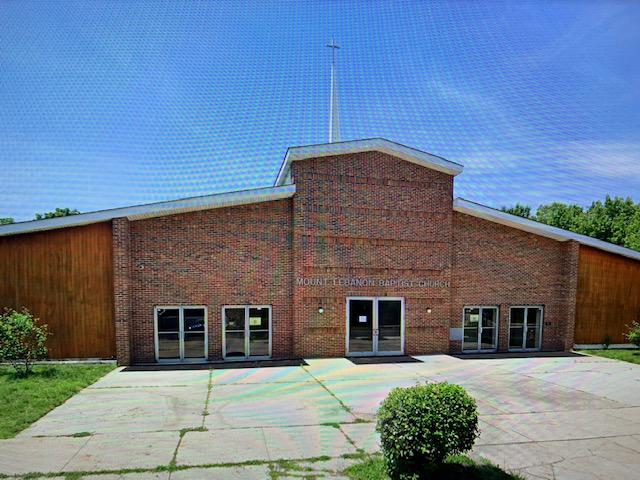 Featured Chruch: Mt. Lebanon baptist Church
Advance Moisture Protection Inc. performed engency and resorative repairs to the roof, soffit, and guters after the church was damged by a neighboring builder. The repairs consisted of installing new roof decking, papering in and installing new shingles to part of the roof, tieing in to the existing roof, installing new soffit and new gutters and downspout.
ADVANCE MOISTURE PROTECTION CHURCH PROJECT LIST:
BROWNS MEMORIAL CH. | CONCORD BAPTIST CH. | B.C.F.C CH. | WHITE ROCK CH. | OWENS MEMORIAL CH. | CHERRY HILL PRESBY. CH. | NEW COMMANDMENT CH. | EVANGELICAL CH. | TRANSFORMATION CH. | CHARITY COMMUNITY CH. | CALVARY TEMPLE OF BALTIMORE | HIGH CH. OF CHRIST | CONCORD BAPTIST CH. | ARLINGTON LEWIN CH. | NEW BEGINNINGS BAPTIST CH. | NEW ZION HILL CH. | BABOCK PRESBYTERIAN CH. | BETHLEHEM EVANGELICAL CH. | SAINT AMBROSE CHURCH | BROWN MEMORIAL CH. | JONES TABERNACKLE | CENTRAL BAPTIST CH. | GOOD SHEPHARD BAPTIST CH. | ARLINGTON UNITED METHODIST | HOLY TRINITY CH. | CHURCH OF LIVING WORD MOUNT ARARAT BAPTIST CH. | GREATER FAITH BAPTIST CH. | RAY OF HOPE BAPTIST CH. | LOVE TO LIFE CH. | ZION BAPTIST CH. | SAINT LUKES CH. | MISSION BAPTIST CH. | CHURCH OF LIVING WORD | EDMONDSON CH. | GREATER DELIVERANCE TEMPLE | SECOND ENGLISH LUTHER. CH. | GREATER CHRISTIAN CH. | MT. LEBANON BAPTIST CH. | GRACE PRESBYTERIAN CH. | CELEBRATION OF LIFE MINIS | ARK CHURCH | GREATER GETHSESAME CH. | NEW TABERNACKLE CH. | MIDDLE RIVER BAPTIST CH. | EASTERN STAR TABERNACKLE CH. | TRINITY BAPTIST CH. | PENTECOSTAL CH. | KNOX PRESBYTERIAN CH. | ADAMS CHAPEL AME CHURCH. | NEW HOPE CHRISTIAN CH. | MORNING STAR BAPTIST CHURCH | KNOX PRESBY. CHURCH | ADAMS CHAPEL CHURCH | CONCORD BAPIST CHURCH | SAINT PETER & PAUL CHURCH | THE MIKVAH OF BALTIMORE | CHERRY HILL PRESBY. CHURCH | EASTERN STAR TABERNACLE | EVANGELICAL CHURCH | HIGHWAY CHURCH OF CHRIST | BETHLEHEM EVANGELICAL CH. | NEW ZION HILL BAPTIST CH. | SHINING STAR BAPIST CHURCH | MOUNT PLEASANT CHURCH | RAY OF HOPE CHURCH | ARLINGTON LEWIS CHURCH | CHARITY COMMUNITY CH. OF GOD | CELEBRATION OF LIFE CH. | LOVE TO LIFE CHURCH | CONCORD BAPTIST CHURCH | SAINT AMBROSE CHURCH | MIDDLE RIVER BAPIST | JONES TABERNACLE CHURCH | MOUNT LEBANON BAPTIST CH. | GREATER FAITH CHURCH | UNION MEMORIAL CHURCH | RIVERSIDE CHURCH | SHILOH COMMUNITY CHURCH | LUTHERAN CH. OF THE REDEEMER | AUGSBURG LUTHERAN CHURCH | UNITED METHODIST CHURCH | AMERICAN RESCUERS CHURCH | NAZARENE BAPTIST CHURCH | MAYS CHAPEL CHURCH | METROPOLITAN COMMUNITY CH. | BETHEL MISSIONARY CH. | GOOD TIDINGS BAPTIST CHURCH | PILGRIM LUTHERAN CHURCH | MOUNT CALVARY BAPTIST CHURCH | BEECHFIELD UNITED METH. CH. | PARKVILLE NAZARENE CHRISTIAN CH. | EMMANUEL EPISCOPAL CHURCH | DOUGLAS MEMORIAL CHURCH | PHILADELPHIA CHURCH | SAINT ABRAHAMS CHURCH | WAYSIDE BAPTIST CHURCH | EPWORTH UNITED METHODIST | NEW BETHLEHEM CHURCH | SHARON 7TH DAY ADVENTIST CH. | LIFE MUSIC CHRISTIAN | COLONIAL BAPTIST CHURCH | LIBERTY 7TH DAY ADVENTIST | MACEDONIA CHURCH | WATERS AME CHURCH | NEW SOLID ROCK FREEDOM CH. | EPWORTH UNITED METH. CH. | VALLEY CHURCH | OLD LANDMARK CHURCH | SHARON BAPTIST CHURCH
FACEBOOK PIXEL CODE DO NOT REMOVE