Advance Moisture Commercial Roofing Contractors Baltimore MD
The Importance of Commercial Roof Repairs and Routine maintenance on Commercial Roofs in Baltimore County and Baltimore City for Business Owners
Commercial roof repairs are especially important because everything else is housed beneath it. Being a business owner in Baltimore County/ Baltimore City comes with many responsibilities. Staying proactive and immediately taking care of repairs as soon as they are noticed can benefit your business in many ways, It Reduces liability, it Increases the service life of your roof, and it saves you money. You can read all the ways staying on top of our roof maintenance and commercial roof repairs in this article, found in our roofing blog.
Do you need a reliable roof system or roof replacement for your commercial building? Flat roofs are the most common type used for commercial purposes but are prone to leaking due to their low slope. However, with proper installation and quality materials, you can make a good investment. Our team is able to complete roof replacement and installation of modified bitumen roofing. CONTACT OUR OFFICE AT (410)327-ROOF FOR ALL YOUR NEEDS.
Without regular maintenance, small roof repairs can quickly turn into extensive problems. A complete roof replacement is a big investment. We know that you don't make decisions like this lightly, and neither do we. CONTACT OUR OFFICE AT (410)327-ROOF FOR ALL YOUR NEEDS.
We have earned our reputation in the roofing industry through quality workmanship, persistent reliability, and expert roofing. Our roof replacement professionals are known to complete each roof replacement and roof installation job with respect, care, and cleanliness each and every time - putting your concerns first. You need a roofer that is ready to help when you need it the most. For roof replacement and roof installation in Baltimore, MD, CONTACT OUR OFFICE AT (410)327-ROOF FOR ALL YOUR NEEDS.
For your current office or commercial building, we offer standard and professional roof replacement or repair. No matter what business you're running or what type of building you are located in, we have all the tools and types of roofing products needed to complete any project. Between traditional methods and modern roofing methods, we have every requirement to suit your needs.
Commercial Roof Inspection & Estimates Baltimore MD
There are many important components to examine when inspecting the roof of a commercial building. A comprehensive professional inspection is necessary to thoroughly inspect your rooftop, flashing and wall caps. Baltimore commercial roofing contractors provide a detailed report of the condition of your roof and any repair recommendations and estimates necessary. We will work closely with you to replace your existing roof with a clean, maintenance free roofing that reduces leak probability for years to come. Advance Moisture Protection commercial roofers also specializes in designing annual maintenance programs to increase the longevity of your roof and identify problem areas before any damage begins. Save time and money with professional roofing services from Advance Moisture Protection serving Maryland, Pennsylvania and Rhode Island.
Advanced Moisture Roof Replacement & Installation
Whether you are roofing a new building, adding on to an existing structure or storms have damaged your roofing, Advance Moisture Protection has the equipment and experience to get the job done. We accept insurance jobs and do our best to get in and out with as little disturbance to your business as possible. Our crews begin by carefully removing and disposing of all materials off the old roof. We then replace and install only high quality commercial grade materials that are designed to stand the test of time. You will find no mess or damage to your property when our crews take off. We will leave your business looking better than before we were here. Your new roof will not only perform perfectly, but it will look fantastic as well.
Emergency Roof Repair Baltimore MD
There may be many reasons why your roof may need repairs such as leaks, improper installation, severe weather, its age and more. No matter what the problem, it is imperative to address any issues with your roof before they become much larger. Our commercial roofing contractors repair any style roof from metal to flat roofs and high pitch roofs in Baltimore MD. If a roof does not get the necessary repairs in time, it can end up costing hundreds or even thousands of dollars in repairs and damages.
Siding & Gutter Repair & Replacement Baltimore MD
In Baltimore MD, Advance Moisture Protection roofers also specializes in siding and gutter repair and installation for commercial properties and churches of any size. As a commercial siding and gutter contractor, we have the skills and equipment to repair, replace and install siding in a timely manner with superior craftsmanship. We use modern siding products and techniques that are built to last and withstand the elements. We offer a huge selection of gutter and siding materials to meet every need and budget.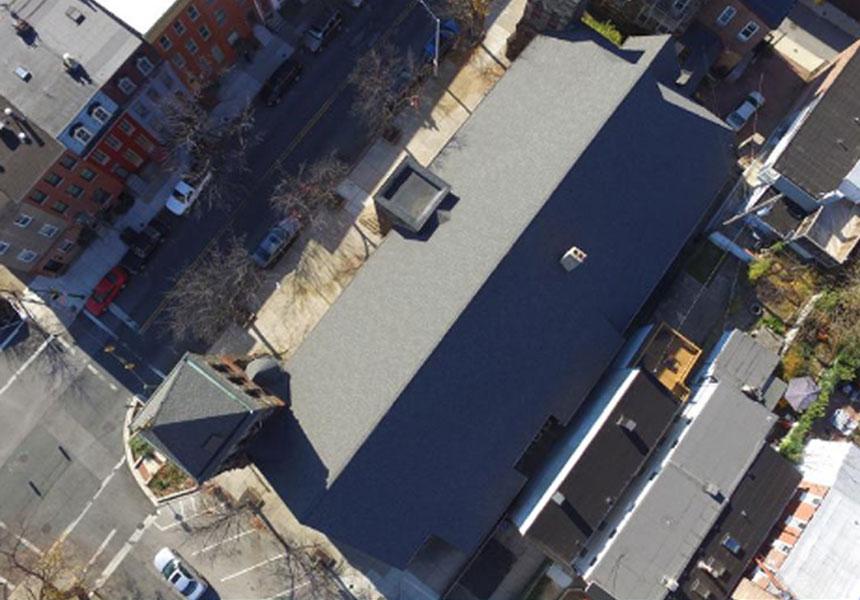 Roof Inspection
Advance Moisture Protection Baltimore MD experts will carefully evaluate existing roofs for any damage or problem areas. Our detailed inspection ensures identification of any additional concerns that may not be visual or part of the initial problem.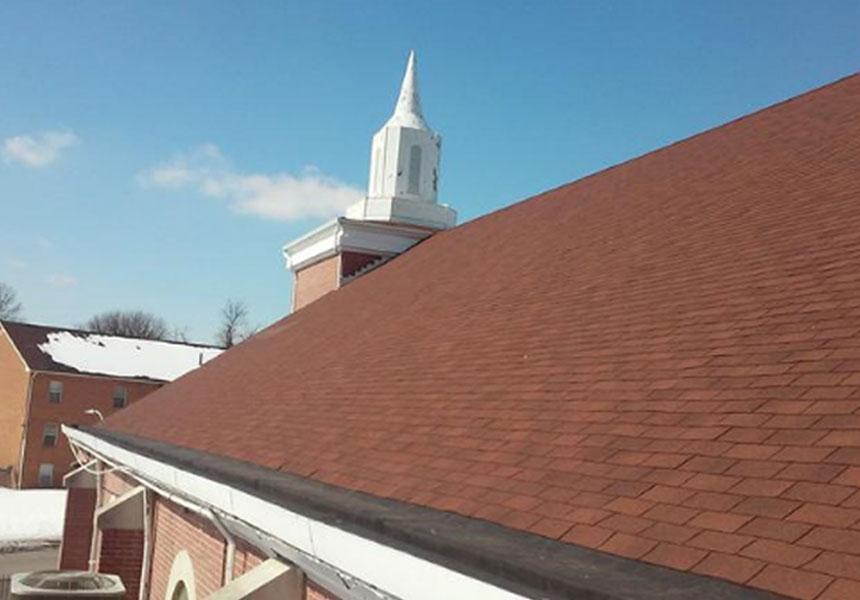 Identify Problems & Evaluation
Once the inspection is complete, we will thoroughly evaluate the extent of the damage. Our commercial roofing contractors also ensure we identify the cause of the problem to prevent future damage wand recommend the best remediation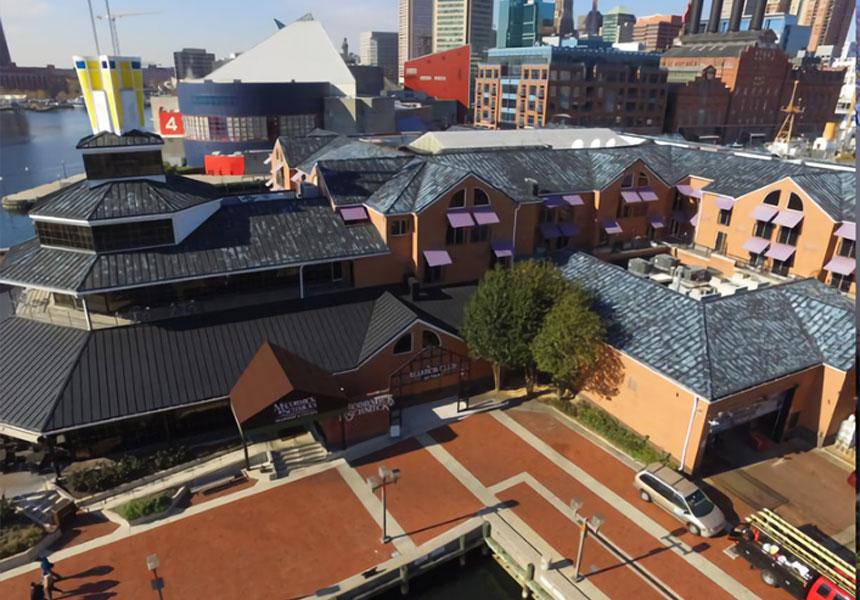 Recommend Solutions
We make sure you are aware of all your options to repair your commercial roof. Often there can many decisions to make depending on the problem, time constraints and budget. In Baltimore MD, Advance Moisture Protection roofer experts will make sure you understand each option and help you make the best decision.
Roofing Services
Repair
Maintenance
Installation
Re-Roof
Inspection
Restoration
Gutter & Siding Replacement
Gutter & Siding Repairs
Gutter & Siding Cleaning
Skylights
Emergency Repairs
Specializing In
Slate & Shingles
Clay & Concrete
Metal Roofs
Flat & Gravel Roofs
Modified Systems
Additional Services
Inspections
Certifications
Reports
Metal Roofs
Metal Roofs
Photos
Cost Efficient Estimates
Aerial Photography/Filmography
We provide commercial roofing and sheet metal services within 100 Miles Radius from Baltimore City, Maryland. We service the following areas in Maryland:
Our total list of commercial roofing and sheet metal services include:
Roofing Services
Siding Services
New Siding, Vinyl, Hardi Plank, Cedar
Gutter Services
Down Spouts
Sheet Metal Work
Wind Damaged Exterior
Wind Damaged Roofing
New Soffit
Slate Repairs
New Slate
New Architectural Fiberglass Shingles
Owens Corning Contractor
Mule Hide Industries
PVC System
Polyglass and Certainteed Mule Hide Modified Bitumen Systems
WATAS, Metal Panel
Metal Roof Systems, Repairs, Services
Continuous Aluminum Gutters and Downspouts
Custom Copper Gutters
Custom Sheet Metal
Starlight Services, Installation, Repairs, or Certified Applicator
Velux
Certified Mule Hide Contractor
Certified Mule Hide 350 Legacy Contractor
Vertical Wall Repair
Masonry Repairs
Caulk Joint Repairs
FACEBOOK PIXEL CODE DO NOT REMOVE
Contact Us for More Information!