DIY Roofing Blog

We have the answers to your roofing
New Roofs In Baltimore:

Why Priming your Roof is so Important!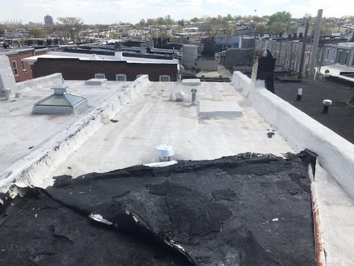 This Reference image is an example of what can happen with failure to prime the Roof before installation. Many companies out there today skip this step, calling it unnecessary. Whether you are installing your own single ply roofing membrane or having a roofing company install your new roof, make sure it is being primed, preferable a day or two before installation.
So why is laying primer so important? Bituminous primer not only primes the area, but seals the surface as well. This is an essential process that ensures optimal adhesion of the roof covering. Iko, in their guide to Asphalt primer, states that "Priming the surface can be a critical step and is important for the best possible adhesion." Article can be found by clicking here. Bituminous primer has penetrating qualities that help promote adhesion and ensure a firm, tough bond. If you want your New Roof System to last, then be sure to properly prime your Roof! If you are hiring a company to install your New Roof Membrane be sure that priming is in your estimate and is performed on your Roof. Don't risk a blow off as shown above!
THE IMPORTANCE OF COMMERCIAL ROOF REPAIR AND ROUTINE MAINTENANCE FOR BALTIMORE COUNTY/ BALTIMORE CITY BUSINESS OWNERS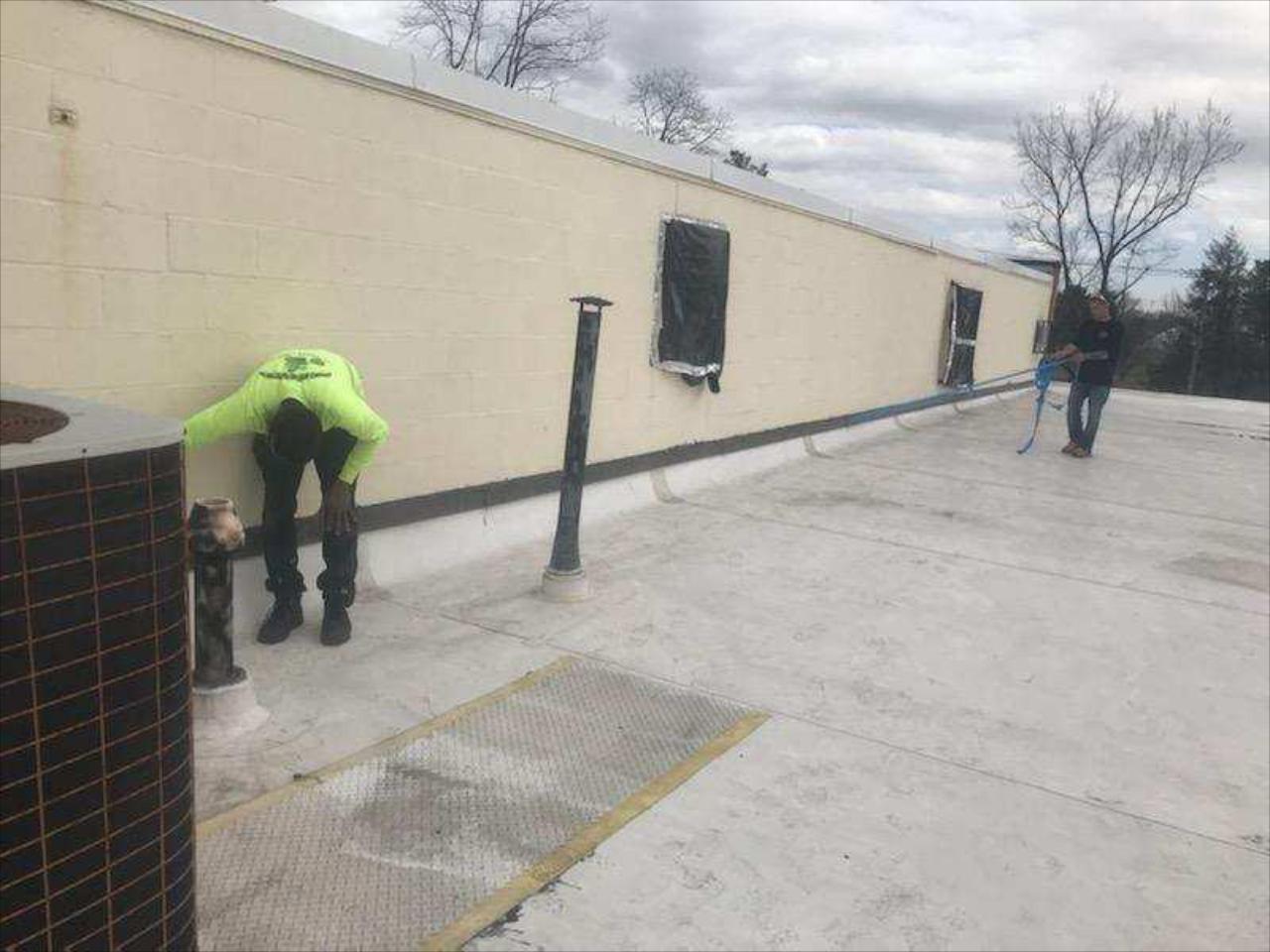 Commercial roof repairs are especially important because everything else is housed beneath it. Being a business owner in Baltimore County/ Baltimore City comes with many responsibilities. Those that operate out of commercial spaces are accountable for ensuring that their surroundings are safe for operation and well maintained. Part of that task is making the integrity of the physical premises remain intact. Be proactive with maintenance by calling on the professionals to do repair work. Commercial roof repairs are especially important because everything else is housed beneath it. Here are some factors to consider when discussing the importance of repairs for your building's roof.
REDUCED LIABILITY
Having a roof that isn't entirely structurally sound leaves your business vulnerable to liability and safety risks. Besides, water leaks or other issues will not only create a slipping hazard but could damage any sensitive and expensive equipment vital to the daily operation of your business. If anyone is hurt while on your property, then you could be held liable, which could lead to costly lawsuits. You can prevent these issues by maintaining the structural integrity of your roof with regular maintenance and inspections.
INCREASED SERVICE LIFE
It's inevitable that environmental wear and tear will eventually affect the performance and durability of your roof. Making necessary repairs when damage occurs and keeping up with regular maintenance will allow you to prevent possible issues before they become more significant problems. Even the best roof materials and installation techniques are vulnerable to the forces of time and nature. Still, keeping up with repairs and maintenance will extend the how long you'll have with your roof before needing to do a total replacement. In turn, this will save you plenty of money over the next few years.
COST SAVINGS
Speaking of saving money, although constant maintenance and repairs may seem expensive to keep up with, it's much cheaper than having to resolve any lingering issues. Having your roof inspected and maintained on a regular basis means that your commercial roof repairs result in an extended lifespan before you have to consider any replacements. It also gives you the time to assess and allocate the appropriate amount of funds to your building budget, so that you can stay ready leaks or other emergencies happen.
Roof Leak Repair
Addressing a roof leak can easily become very complicated. Common sense tells us if you see a water spot that's where the roof is most likely leaking, but as with anything else it's not that simple. The first step to diagnosing a roof leak is to determine what type of roof system you have, is it a sloped shingle roof, or sloped slate roof, or do you have a flat asphalt or modified roof system.
We will start with the former, sloped shingle roofs. Keep in mind water will always take the path of least resistance, just because you have water coming in over a certain area doesn't necessarily mean that is where your problem is. With a shingle roof you want to look outside for missing or lifted shingles. You also want to look for exposed nails, as nail heads can lift over time allowing water to seep in. With Slates you are looking for cracked, broken, or missing slates. It's also important with sloped roof systems to check your flashings, and of course always check and clean out your gutters. I found a great article from Family Handy Man magazine on finding and repairing roof leaks on shingle roofed homes. Handyman.com roof leak article
For non-sloped, modified or asphalt roofs. You want to focus your attention on the roof seams and flashings for any signs of a leak. You usually won't see any roof penetration's allowing water in on non-sloped roofs because the roof membrane is either torch applied, or glue adhered to the surface so there are no air pockets or space between the membrane and roof decking. Once the leak is located you can use fiberated tape and roof cent to sure up the aria. This article I found on Roofing Coculater.com goes over the process. Flat roof repair
As always if you find yourself needing assistance Please don't hesitate to contact us. We are here to help. We have the knowledge and experience with the best troubleshooters in the business. 410-327-7663
What Trees are Around your Home
Summer is approaching once again, bringing our trees into full bloom. Trees add a lot of benefits to your property. Not only does it add curb appeal, but it adds protection from wind, and shade from harmful UV rays. There are also some drawbacks and added maintenance when it comes to trees close to your home. As you do need to continually cut the branches back so that they don't hang directly over your roof. If you don't keep tree branches cut back, they can become expressways for animals. They also depending on the type of tree can leave nuts, berries, leaves and needles on your roof leading to clogged gutters. Summer Storms and carry tremendous winds leaving fallen branches and debris on your roof. You should also monitor the health of your trees around your home as a falling tree can cause a tremendous amount of damage.
While trees in full bloom are beautiful, they do come with added maintenance and responsibility. I the event that your roof had been damaged by a fallen tree or storm damage call a roof professional as soon as possible to guide you through the process of restoring your home. Tree and storm damage is covered under most home insurance policies. We are always here to help. To dive deeper into the do's and don't and pros and cons of trees and your roof check out This article from Iko.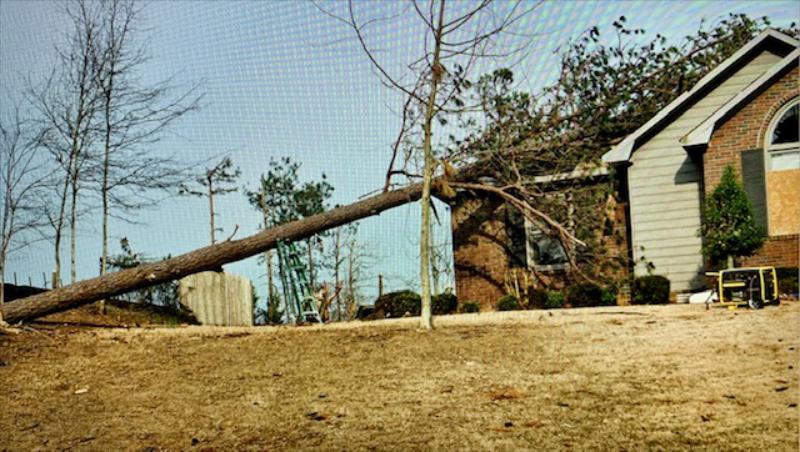 5 Signs that you need New Guters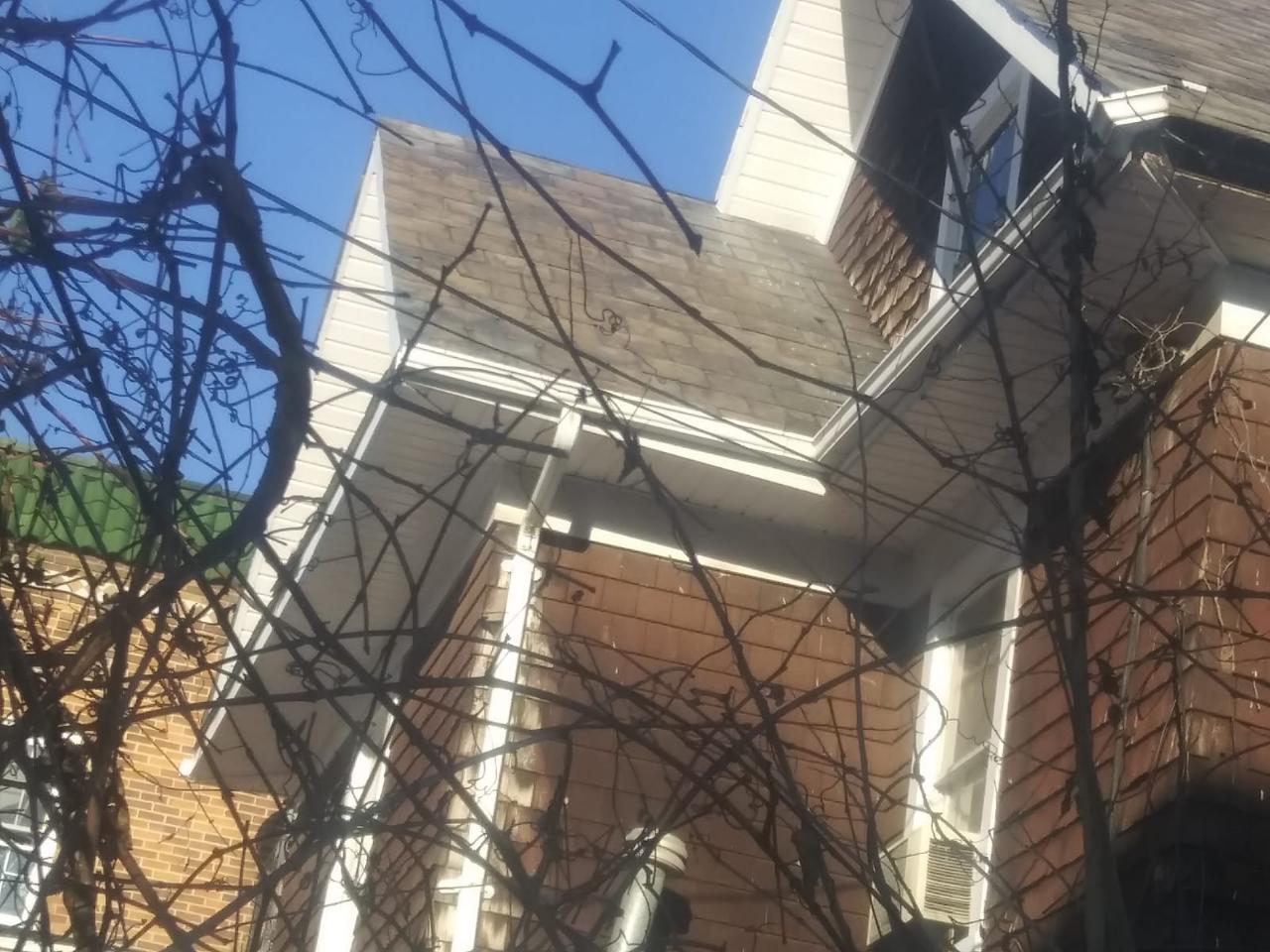 Gutters are far more important to the structural integrity of your home than you might think. They carry rainwater and melting snow away from the house so you don't have to deal with flooding, leaks, and even foundation damage. When your gutters aren't working properly, it's important to address the problem as soon as possible,...
Read More
DIY Roof Replacement Vs Professional Roofing Replacement
The idea behind the savings of DIY Roof Replacement is alluring however the initial savings you receive might not be worth it I the long run. Now if you are an experienced roofing mechanic then I would absolutely recommend it but for the vast majority of us the downfalls you may face far outweigh the benefits. The first thing you need to find out is if the manufacturers grantee covers DIY Installation, as many do not. This is due to the fact that the manufactures have set guidelines for installation and will not honor any warranties if not installed by these set guidelines. In my opinion the safety issues far outweigh any monetary savings you may receive, falling off a roof is no joke, and the recovery time alone will put a huge dent in your savings, speaking from experience it's no fun. Things may not always be as simple as they appear, there are many pitfalls that seasoned roofers can spot and correct, such as broken rafters and bad roof decking, that will cause additional aggravation and expanse if you don't know how to correctly fix. Your roof cover and protects all the things you hold dear. Take the time and find a reputable company with the experience and expertise to back up their warranty. Please remember before you DIY any project always put safety first, research the safety guidelines and work within those guidelines.
We'd Love to hear from you send in your questions and we will respond.
Question: How do you know if your contractor is legitimate?
Answer: There are too many companies out there that will take your money and run, be sure to do your homework before choosing a company. Check their license status with Maryland DLL, check their reviews and make sure your dealing with a well-established company.
Questions: Do I need to replace my roof if it starts leaking?
Answer: There are several factors that goes into the answer, if your roof is less than 10 years old and has not been subject to extensive water damage than a leak can be repaired and would be in your best interest. If, however your dealing with an older roof a repair may not be in your best interest. Let a qualified roofer inspect your roof and give you a professional opinion. Check out this article from Long Home Products, How to find a Roof Leak in 7 Steps.
Advance Moisture Protection Has provided an array of How-to-videos from our Certified Manufactuers
FACEBOOK PIXEL CODE DO NOT REMOVE